What We Do
We have many specialized classes alongside our regular classes for athletes, restorative yoga and yoga for seniors.
Each of our Yogis has a specialization that brings something unique to their class experience.
Kari
After the devastating loss of her mother, Kari turned to yoga to heal herself from years of self destructive habits, to deepen her spirituality and to reclaim her health and vitality. As she became more involved in yoga and the
breathing techniques which are the cornerstone, subtle change began to occur. Her outlook on life and priorities began to shift into a much more positive direction. Inner peace and happiness became more of a reality on a daily
basis.
"I spent 18 years in the stressful world of Mortgage Banking, had a good career and nice income, but it wasn't enough, I wasn't happy. Yoga opened up a whole new world for me and suddenly success and money were no longer a top priority in my life"

When the opportunity arose for Kari to "retire" from her career in the Mortgage field and pursue the dream of teaching yoga, she jumped at the chance. With the support of her teacher Fran Zabica, the founder of Inner Harmony, she obtained her teaching certification in Ananda Yoga for Higher Awareness. Kari credits Fran with changing her entire life. Fran has spent endless hours mentoring and assisting Kari in developing her teaching skills, and for that she is forever grateful.

When Fran became ill and was unable to teach, Kari stepped in and took over the day to day running of the studio and teaching the majority of classes. So, it was an easy transition for the students, when Fran decided to devote her full energies into healing and for Kari to take over as the new owner of Inner Harmony. Unfortunately, Fran passed over September 30th, 2005. Divine Soul, Dear Friend, she is sorely missed by many. "I honor Fran daily through the continuation of Inner Harmony. This was her dream."

"When I look back at how different my life was just a short time ago, it amazes me. I'm just so happy when I teach. Helping my students reach their full potential is my priority now, and I find that much more fulfilling than money or power ever could be."

It is Kari's honest and down to earth approach to yoga that appeals to many of her students. She is able to relate to her students, whether they are on the yogic path to spiritual enlightenment or just in need of healing their bodies and minds from years of excessive stress.
---
Dana Pariseau-Beach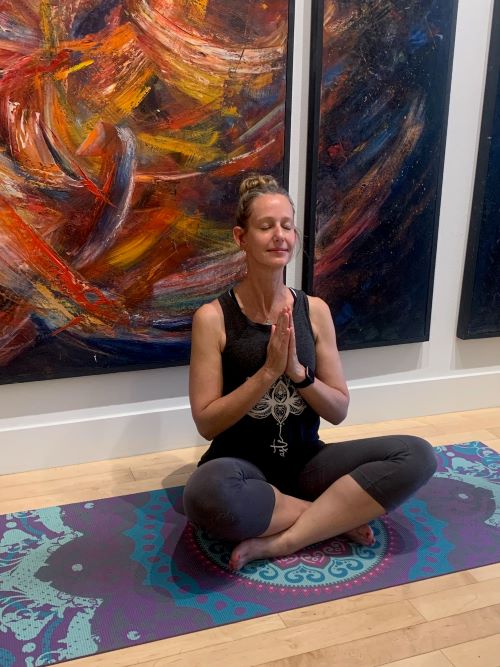 I began yoga back in 2018 to add stretching and aerobics to my daily workout routine. The practice not only increased my mobility and flexibility but I also found a calmness, peace and enlightenment that transformed my life. I found yoga touches the mind, body, and spirit.
During Covid, with all practices shut down, I started sharing my passion for yoga with my friends & neighbors every week. They enjoyed my sessions so much that they encouraged me to teach professionally which planted the seed. I was excited with the possibility of sharing my passion with others. So in 2022, I enrolled in the 200HR Yoga Teacher Training at Yoga108 in Long Beach. Yoga is boundless with knowledge and there is always more to learn.
I continue to study, grow, and expand not only my individual practice but in my teachings as well. My goal is to connect with the community around me and share my passion for yoga.
My Tai Chi journey came shortly after my graduation in yoga. Yoga opened my heart to meditation practices and energy work which led to my interest in Tai Chi. Its centering and grounding properties as you generate and circulate vital energy around the body helps to calm the mind and balance our Chi in meditative movement.
Join me Wednesday evenings at 6pm for 75 min vinyasa flow classes that build balance, strength, and endurance (all levels welcome) and Friday evenings at 6pm for 60 min Tai Chi to calm the body and mind (beginner).